June 10, 2021
Emerald Cut Engagement Rings
Emerald cut engagement rings are an elegant and timeless choice, their bold lines and and clean cut corners make them a perennial diamond shape. The emerald cut diamond first became popular in the art deco period as their large, window like facets and geometric outline reflected the style of the time, yet it has remained modern and cherished ever since.
This blog will educate you on the properties and characteristics of an emerald cut diamond as well as show you some of our past creations.

How to choose an emerald cut diamond?
Emerald cut diamonds have large "step cut" facets, which act as windows into each stone, and reflect large shards of light. Therefore these cuts of stone are often perceived as the most elegant due to the clean straight lines and hall of mirror style reflections. In contrast a round brilliant cut, cushion or radiant the facets are smaller which reflect and refract light in many more directions, creating a higher level of brilliance (sparkle).
For the above reasons when purchasing an Emerald cut diamond clarity should be given greater significance as a quality criteria as any inclusions are much more visible than in a brilliant cut stone. On paper, two diamonds can appear to be exactly the same, however can have a significant price difference.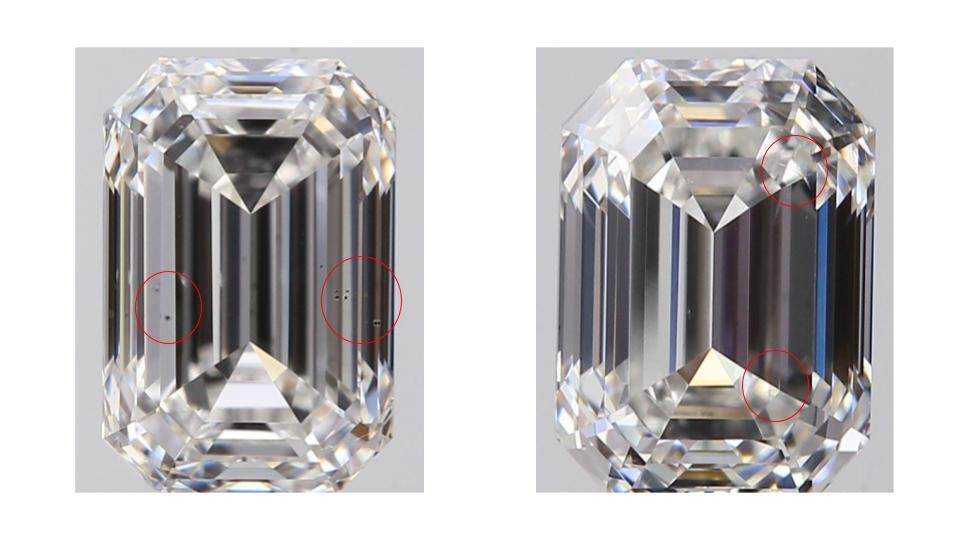 Here we have selected two 1.00ct, F, SI1, Excellent Polish & Symmetry and as you can see, both diamonds look very different. The diamond on the left has black carbon crystals near to the top (table) of the diamond, which reflect in the facets below. The stone to the right however, has white feathers (internal structural deformities) towards the bottom (pavillion) of the diamond. The size, location, and colour of clarity characteristics can dramatically alter the price of a diamond; these diamonds have nearly £1,500 difference between them. Our GIA trained gemologists will hand pick diamonds for their qualities and work with you to source a stone that best optimises your budget.

Emerald Cut Diamond Halo Engagement Ring
Senderwood features a 1.30ct flawless emerald cut diamond with a diamond halo and band, set in platinum. The halo setting is custom made in proportion to the emerald cut so that the melee diamonds are not too small or too large, so that it creates the perfect balance of enhancing and emphasizing the centre stone. You can see more of our halo rings here.

Emerald Cut Diamond and Sapphire Trilogy
Canyon features a 0.90ct emerald cut diamond emerald cut royal blue sapphire side stones. The gemstones are set in a bezel or rubover style in 18K yellow gold. The bezel setting envelops the gemstones in a smooth layer of gold, allowing the shape to be emphasized and undisturbed by claws and gives a very smooth and fluid feel to the ring. Diamond and gemstone rings are becoming increasingly popular, you can see more here.
Emerald Cut Diamond with Trillion Cut Diamonds
Windemere is an heirloom piece featuring a 3.91ct emerald cut diamond flanked by two trillion cut diamonds. This engagement ring really shows off the long bold lines of the emerald cut and enhances them with angular triangular shaped diamonds either side. You can see more of our trilogy rings here.
Emerald Cut Diamond Art Deco Target Ring
Dorset features a 1.20ct emerald cut diamond with a tsavorite garnet halo and band. This ring takes inspiration from Art Deco target rings, which feature a central diamond that is surrounded by a colourful pavement of gemstones. The diamond and halo are both bezel set with a channel set band, acting as a neat platinum frame to really emphasize the pop of colour.
If you would like to create a bespoke engagement ring featuring an emerald cut diamond, please don't hesitate to get in touch.
Return to Journal