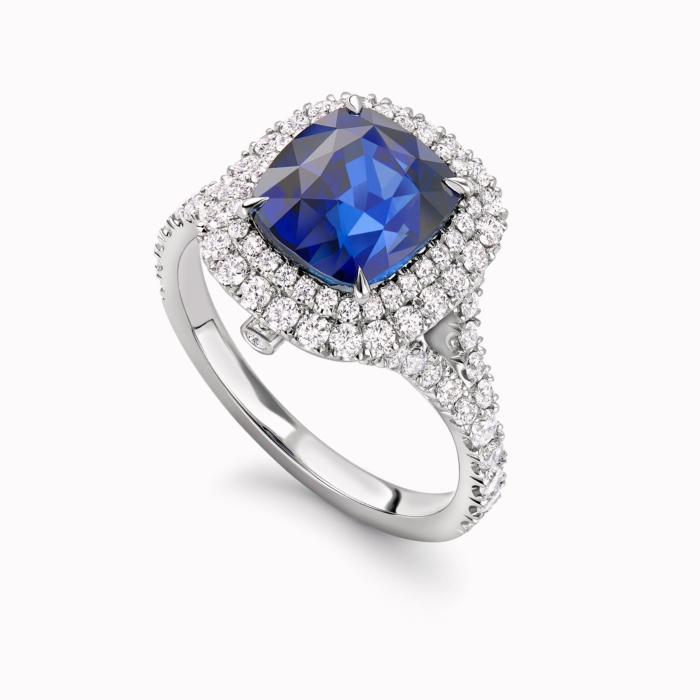 Ella
A truly classical British design centred around a majestic 4.06ct Royal Blue Sapphire as deep as the ocean. The colour of the central stone is so rich it draws the eye closer and closer. As it catches the light flutters of fiery blue light rise out of the depths.
Certificate:
IGR: 30306826
4.06ct Royal Blue Sapphire
Source:
Sri Lanka
POA
4.06ct Royal Blue Sri Lankan Sapphire set in elegant and near invisible talon claws that provide total security
Side-cut scallop set double diamond halo and band allows the maximum amount of light to flow through the stones
60% diamond band gives the impression of a full diamond band even with slight rotation
A split shank diamond band draws the eye in the centre piece and focal point of the ring
The rough stone was taken from a non-mechanised open pit mine in Rathnapura in April 2018
Part of a series of 3 matching sapphires all sourced together
Transported to Galle for lapidary and polishing May 2018
Design and setting work took place in our central London workshop
Book an appointment
Our central London studio & workshop is open Monday to Friday 9:00am to 17:30pm available by appointment and is located just a short walk from Chancery Lane tube or Farringdon station.
Contact us